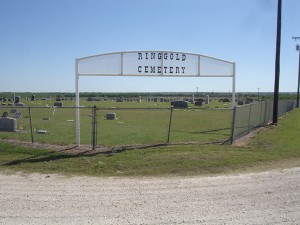 Ringgold Cemetery
In my home state of Tennessee, I am used to finding cemeteries nestled within huge forested lands. If the cemetery is on an expanse of farmland or atop one of our beautiful mountains, I am often lucky enough to enjoy a few miles of unobstructed visibility.
In contrast to our landscape back home, the plains of west Texas offer amazing vistas that I just don't get to view in Tennessee. On my cemetery hunting trip across America, I found a cemetery with such a vista driving just outside the dusty Texas town of Ringgold.
Upon pulling off I-82, I expected to find a small barren piece of land with no greenery in sight. Instead, Ringgold Cemetery offered a wide expanse of green grass offset by an azure blue horizon. Miles and miles of nothing but miles and miles await visitors to Ringgold Cemetery.
The grave sites are sparse yet many tombstones stand in contrast to the mostly flat land.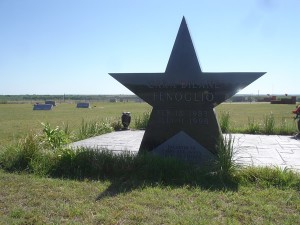 Nearby: Miles and miles of nothing but miles and miles.