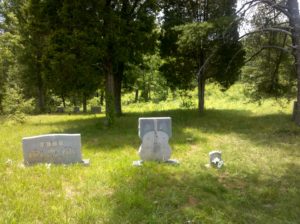 Name: Aetna Cemetery
State: Tennessee
Aetna Cemetery is a small volunteer maintained cemetery located atop Aetna Mountain just outside Haletown, Tennessee.
The grave sites within Aetna Cemetery date back to the 1860's and are marked with crude hand-carved tombstones.
I love hand carved grave markers. They show the personality not only of the carver and the individual they are carved for but also for the community at large. I believe hand carved tombstones are treasures of the community and time from which they were made. Hand carved tombstones are in abundance in Aetna Cemetery.
Aetna Cemetery will probably never be described as "beautiful" but the rugged rural nature of this cemetery gives it a character hard to find in modern, landscaped, and perfectly manicured cemeteries. I don't often feel a presence of the people who are buried in cemeteries I explore. However, when I visited Aetna Cemetery, I felt like I was not only observing burial sites but also the burials themselves. I felt the heartbreak of rural mountain people as they buried their sons, daughters, Mothers, and Fathers during driving rains of Tennessee Novembers and the blistering heat of an outdoor funeral in the South during the height of summer.