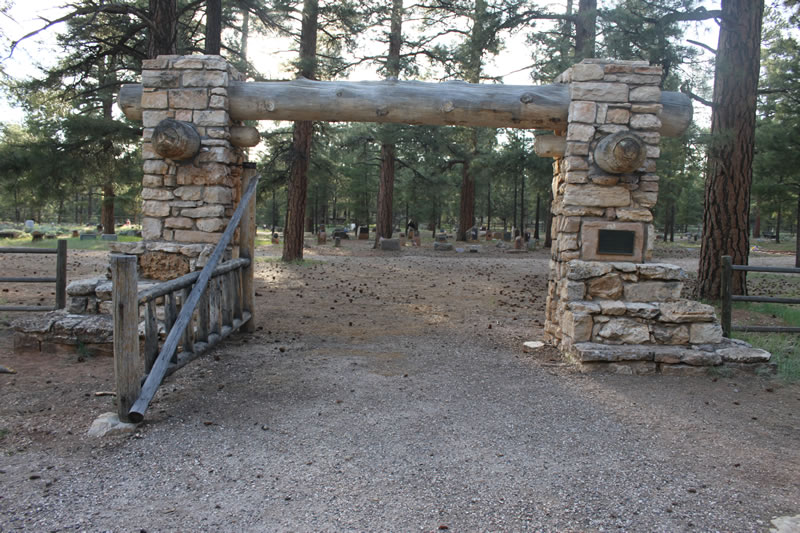 I first visited the Grand Canyon in January 2007 after brief stays in Las Vegas, Flagstaff, and Meteor Crater with my amazing friend (The Cemetery Diva). At 7000′ elevation on the South Rim, the weather at the Grand Canyon in January is frigid. The mercury in my thermometer plummeted to -3 F during my first night and, since I have limited experience with such cold weather, I was unprepared for the consequences of sub-zero temperatures. Though I did not freeze to death, as my hotel room was nice and warm, I remember being astounded that my hair froze solid during a brief run after my morning shower. Ah well, the day's sunrise brought increased temperatures and my hikes to Plateau Point and Skeleton Point were highlights of my trip. I vowed to return better prepared to hike all the way to the Colorado River.
Fast forward to this year. During my recent "Cemeteries Across America" tour, I was lucky enough to pay another visit to the Grand Canyon. The Cemetery Diva and I were better prepared this time to delve deeper into (and out of) the inner canyon. Being in great physical condition and carrying only the supplies we truly needed, we hiked Rim-to-Rim (South Rim to North Rim). After a relaxing night's stay on the North Rim, she was kind enough to take the trans-canyon shuttle back to the South Rim while I ran the North Rim to South Rim route with a couple of new found friends. My return Rim-to-Rim run took a mere 7 hours. During her free hours, The Cemetery Diva set up camp in the Grand Canyon camp grounds, found a great spot to have dinner, and located the Pioneer Cemetery.
In 1919, the Grand Canyon's most colorful character (John Hance) was buried in what became the Grand Canyon's Pioneer Cemetery.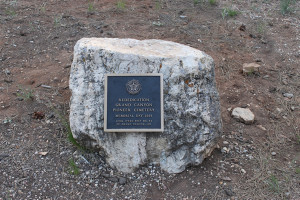 Since the time of John Hance's burial roughly 300 people have been interred in the Pioneer Cemetery according to Find-A-Grave. Burial is now restricted to residents of Grand Canyon, Arizona. On Memorial Day, 2003 the cemetery was rededicated by the American Legion. The American Legion largely maintains Pioneer Cemetery and they help promote the history of the cemetery and the Grand Canyon.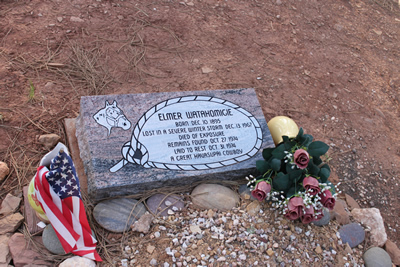 I love descriptive grave markers. Grand Canyon's Pioneer Cemetery is filled with descriptive grave markers that share not only the DOB and DOD but also tidbits about the person's life. One such gravestone marks the grave of Elmer Watahomigie. He was a cowboy in the Grand Canyon and was lost in a severe December winter storm. His remains were not recovered until 1974.
Other markers tell stories of musicians, world sailors, poets, artists, teachers, and lovers who met at the canyon.
In 1956 two airplanes collided between the canyon's walls. 128 people lost their lives in the plane crash and there were no survivors. A monument is dedicated to those buried here; many of them in a mass grave.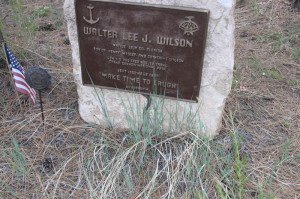 As I enjoyed walking the cemetery and reading the interesting dedications on tombstones, I was surprised by one grave marker. The stone itself did not surprise me nor did the inscription on the plaque. As I stooped in close to examine the marker, I jumped back in a sudden fright as I realized I was within inches of a snake's tail. I am not normally taken aback by snakes unless they startle me. And, this one really startled me. He (she?) was hiding in a crevice behind a plaque attached to a grave marker. He was likely shading himself in an effort to stay cool with only his tail exposed to the sun to help maintain his body temperature. I have hiked many miles in the Grand Canyon seeing many wildlife species but this is the only snake I have seen.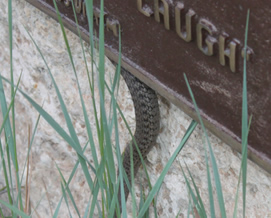 I have three recommendations should you ever decide to visit the Grand Canyon. First, properly prepare yourself and venture into the canyon beyond the casual sightseers that never truly see the beauty of the inner canyon. Second, take a few hours to explore the Pioneer Cemetery and beware of snakes. Finally, after a full day's adventure of hiking and exploring, make a reservation at the Grand Canyon lodge to enjoy a huge plate of spaghetti and meatballs.
Ah, what an adventure.
– The Cemetery Detective
Following a keen interest in cemeteries The Cemetery Detective has studied burying grounds from Hawaii to Maine, Europe, and throughout the United Kingdom. He instructs entrepreneurs how to start their own grave care businesses through his website: www.GraveCareBusiness.com