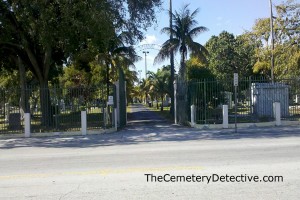 Before tourning the Port of Miami, I decided to take a quick tour of a couple cemeteries that were near my hotel. The City of Miami Cemetery was a quick 1.1 miles away so I decided to walk the distance. It was a pleasant walk that allowed me to explore a few ecclectic shops and find a Miami diner serving plate sized portions of home-style cooking. If you are not interested in the 1.1 mile walk, a 15 minute bus ride will take you from the Bayside retail section of the Port of Miami to within a few minutes walk of the cemetery.
My initial impression of the cemetery was of the substantial fence enclosing grave plots, monuments, and many tropical trees. The cemetery was mosly tidy, the grass was manicured, and markers were mostly easy to read. I did find that there were a significant number of pedestrians using the cemetery as a walking path between 2nd Avenue and North Miami Avenue. I wasn't bothered by them but many of them seemed to look at me suspiciously as I wandered the grave sites with my notepad and cameras.
The cemetery houses many of the original black American and Bahamian incorporators of the city. One of the United States' first black judges is also buried there. There is a large memorial to the Confederate Dead as well as a Catholic section, a Jewish section, a Spanish-American War section, and a monument dedicated to Julia Tuttle – the Mother of Miami.
Gravemarker enthusiasts will like to know that the 5 known limestone gravemarkers in the country are located within the City of Miami Cemetery.
Following a keen interest in cemeteries The Cemetery Detective has studied burying grounds from Hawaii to Maine, Europe, and throughout the United Kingdom. He instructs entrepreneurs how to start their own grave care businesses through his website: www.GraveCareBusiness.com