In addition to great sunrises and cooler weather this time of year, I always enjoy finding Osage Orange fruit during early morning autumn walks in my local cemeteries.
Osage Orange Fruit Signifies The Coming Of Autumn
Osage Orange (Maclura Pomifera) were used for generations by Native Americans – particularly the people of the Osage Nation. Workers crafted bows and other weaponry from its sturdy yet flexible wood.
Osage Orange trees tend to grow in dense proximity to one another. Because of this, they are often used as a natural wind break. In the 1930's 100's of millions of Osage Orange trees were planted in the plain states to help guard against wind driven soil erosion during the dust bowl years. This resulted in large-scale distribution of the tree.
Cemeteries Use Osage Orange Trees
Because of its widespread use, public entities, such as cemeteries, used the tree as a means of inexpensive, natural perimeter fencing.
The fruit exudes a sticky white latexy substance that was used in olden times as a natural insect repellant. The fruit's outside has a wrinkly, craggy appearance.
I am always interested in looking for Fibonacci sequences when I'm observing trees and their fruits out in nature but no discernible Fibonacci sequence is readily apparent on the Osage Orange fruit.
Although not as widely used, now, as it was in the early to mid 1900's, Osage Orange trees are still very commonly found.
As you can see here, I found quite a few specimens strewn freely on the ground of Forest Hills Cemetery in Chattanooga, Tennessee.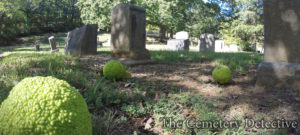 References:
http://lancaster.unl.edu/enviro/pest/nebline/hedgeapple.htm
https://en.wikipedia.org/wiki/Maclura_pomifera
"Magic Forest" Kevin MacLeod (incompetech.com)
Licensed under Creative Commons: By Attribution 3.0 License
http://creativecommons.org/licenses/by/3.0/
Forest Hills Cemetery Chattanooga, Tennessee.