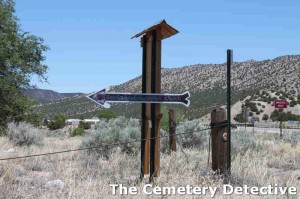 Coupling a keen eye for grave markers with the barren flat landscape of New Mexico back country means very few cemeteries go unnoticed to The Cemetery Detective.
On a late May afternoon while driving slightly faster than necessary along Highway 68 and fighting the glare of a hot New Mexico sun, I glimpsed the familiar shapes of traditional southwestern grave markers more than a mile in the distance. "I simply do not have time to take in another cemetery today" I thought to myself. My journey was growing long and I had less than 3 days to travel 1300 miles back to my home in East Tennessee.
As each tenth mile clicked away on my odometer the lure of this particular cemetery grew as distant as my desire to eat one more greasy tamale from a roadside tamale stand. The kind of tamale containing peppers never seen east of the Mississippi River. The kind that exudes brightly colored grease that pours down your hand and into your shirtsleeve with each bite. Sure, they taste great at first but after so many days on the road and so many lackluster experiences, you desire an immediate change of pace.
The middle divider of the four lane highway provided enough of a barrier to quell my impetus of making another stop. I would be on my way without distraction. Now, I consider myself fairly spontaineous. However, when I first noticed the highway crossover, it was less than 200 feet in front of me. Being in the right hand lane of the four lane highway and travelling with my right foot depressed more than half-way to the floorboard made a possible diversion through the crossover and toward the cemetery on my left simply unreasonable to fathom. However, the instant gratification of a self-provided challenge was too much to resist. With a squeal that would make a set of high end Pirelli's envious, my tires accepted the physics-defying cornering demands of my rapid decelaration and abrupt trajectory change with ease.
The sign said "Our Lady of Guadalupe Church." I could have sworn I had stopped at a OLG Cemetery not a day before and I hoped I was not going to be as disappointed with this cemetery as I was with the last one.
As happens so often in my life, the absolute last minute decisions, that take place with completely no planning at all, often turn out to be some of my best decisions. This fantastic find was the result of one such decision.
As I pulled into OLG Cemetery, I saw a very familiar sight; dry sandy substrate with no greenery in easy view. Ahh…but I was not here to spy greenery. And what I was here to spy, the grave markers, were spectacular.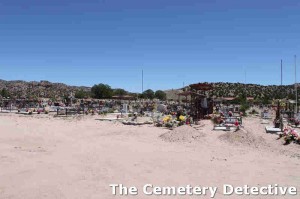 I have seen Jesuses as grave markers before. I have seen broken-hearted Jesuses, crucified Jesuses, and I have even seen a Jesus wearing cowboy boots. However, the Jesuses I observed in OLG were two of the most spectacular Jesus grave markers I have ever seen in a cemetery.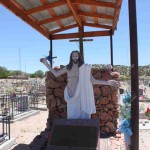 Jesus #1 appeared to be slightly over 6' tall though his long, thing, gangly arms should have been fitted to a skinny man a full 12" taller. He had a very pleasant smile on his face though the stigmata on his hands were clearly visible. A white linen draped around one shoulder clearly setoff his tanned, well defined, even muscular, body and his hair fell loosely around his shoulders. What a magnificent sight.
Jesus #2 appeared to be the same height as Jesus #1. However, Jesus #2's figure was bent slightly at the waist under the heavy burden of the cross he carried. His face was much grimmer than the first Jesus as trickles of blood meanered toward his eyes after seeping from wounds produced by a thorny crown encircling his head. He wore a full robe as opposed to the first Jesus' loosely fitted linen however both Jesuses sported full beards. Another very interesting aspect of the two Jesus markers is that they are both housed under cover of grave shelters.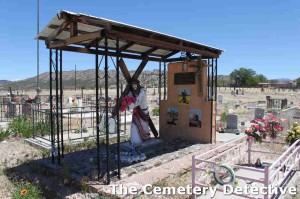 What a joy OLG Cemetery was. I could have easily spent two hours enjoying each and every grave marker. However, the previously mentioned time constraints pressed me to move on my way. If you are ever in this section of New Mexico, please stop in, take a few photographs, and collect a few hands full of wind blown litter that inevitably becomes entangled within the perimeter fence. If you happen to be (or know of) the artist who produced the Jesus grave markers, I would love to hear from you. Your work is very much admired.
Following a keen interest in cemeteries The Cemetery Detective has studied burying grounds from Hawaii to Maine, Europe, and throughout the United Kingdom. He instructs entrepreneurs how to start their own grave care businesses through his website: www.GraveCareBusiness.com
Nearby Attraction: Black Mesa Winery