On a frigid January afternoon, I stepped off my sailing vessel on Bowen's Warf to take in the sights and sounds of historic Newport, Rhode Island.
I was in the midst of a grand adventure that would eventually take me across the North Atlantic Ocean in the middle of Winter to explore the cemeteries on the island nation of Bermuda. In the meantime; I was excited to explore the outer fringes of east coast mainland USA bundled in a thick sweater and rain resistant overcoat. The frigid weather did not discourage hardcore Rhode Islanders. As I strolled along America's Cup Avenue crowds of people enjoyed the sights and sounds of the piers' tourist attractions.
Newport was founded in 1639 and thus its cemeteries have their roots deeply intertwined with early colonial history. Geographically lying only 60 miles south of Boston Massachusetts, Newport's cemeteries share much of the tombstone iconography seen in Boston's revolutionary and pre-revolutionary burying grounds. While touring Newport's cemeteries, I was very pleased to see many instances of Winged Death's Heads adorn the slate used to mark many burial sites.
Common Ground and Island Cemeteries
Founded in 1640 and contains over 5,000 graves.
Notable for slate grave markers with colonial era death symbology including many winged death's heads and winged hourglass configurations.
God's Little Acre is the African-American section of the Common Ground Cemetery.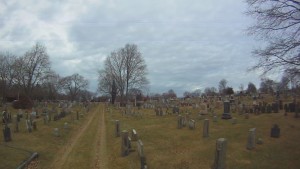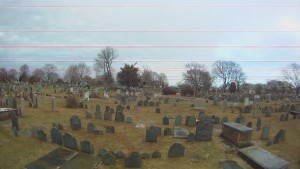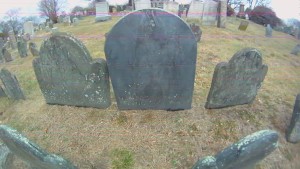 Trinity Cemetery