Keith loves sharing stories of the cemeteries he visits.
His presentations are: educational, historic, witty, and engaging.
His current presentation is:
The Submerged Cemetery at Mullins Cove
Keith is now available to give this presentation to your civic, church, business, or school group.
You will learn:
– The life histories of the people buried here.
– The reasons why this cemetery is underwater.
– How the newspapers got it wrong.
– If there are other burials underwater.
– Who Moses Long is and where his mother is buried.
– What the future holds for this underwater cemetery.
This presentation can be tailored to fit your time frame from 10 minutes up to 1 hour.
Question and answer session after the presentation.
Fees: Generally, Keith does not charge money to give his presentation to small (non-profit) groups.
For larger groups and for-profit events, a modest fee will be discussed.
Please contact us for more information.
To begin the scheduling process, send a message via our CONTACT FORM with the following information:
Your Name:
Your Organization's Name:
Your City and State:
Your Contact Information:
Desired Date & Time of Presentation:
Below is a picture of the submerged cemetery, the focus of Keith's current presentation.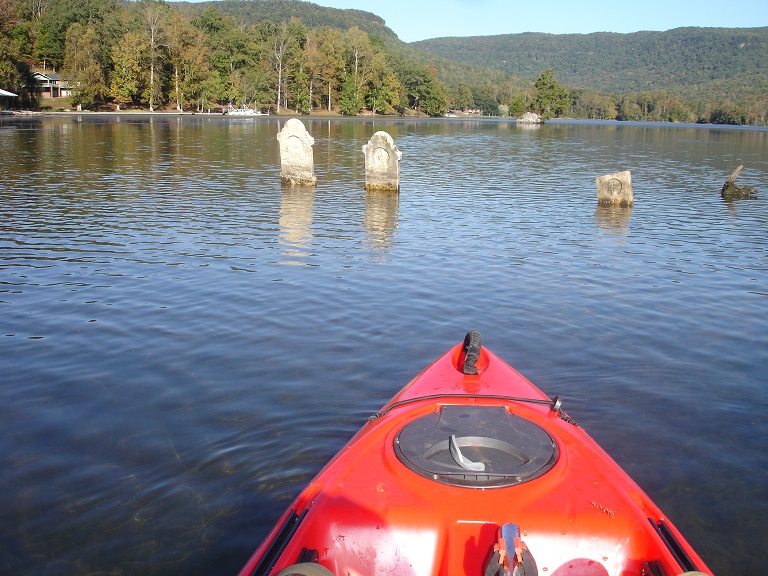 Keith's Cemetery presentations are energetic, scientific, historic, adventurous, and fun.
To schedule an interview with The Cemetery Detective for your:
Television Station,
Radio Show,
Newspaper,
Periodical,
Blog,
or if you are interested in having The Cemetery Detective speak at your event or for your organization, please send us a message via our
CEMETERY DETECTIVE CONTACT FORM.
Below are a few of Keith's recent media and seminar events: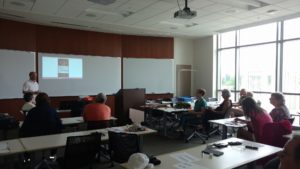 Gravestone Conferences
Keith presented his Submerged Cemetery at Mullins Cove presentation at the 2017 Association for Gravestone Studies annual conference in Tuscaloosa, Alabama.
At the 2016 Association for Gravestone Studies annual conference, Keith lead a full day workshop on GPS/Cemetery Mapping. This workshop included a 3 hour class lecture with hands-on map building activities. The classroom section of the workshop began with a basic discussion of 2-dimensional topographical maps. Using those 2-dimensional maps, Keith integrated a GPS data stream which allowed class participants to develop 3-dimensional geospatially accurate cemetery maps.
Classroom participants also discussed the latest in crowd-sourced apps which make cemetery hunting fun and effective.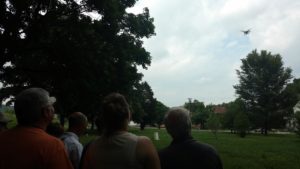 The classroom workshop was followed by a field study in cemetery mapping.
Keith used Drone technology to develop a 3-D Cemetery Map of a local cemetery.
Conference attendees enjoyed hands-on operation of a GPS enabled Drone in our mapping field study.
---
Public Speaking
Keith was a featured presenter at Pecha Kucha Chattanooga. His presentation underscored the importance of proper documentation and mapping of certain cemeteries that are under pressure by surrounding neighborhood construction zones.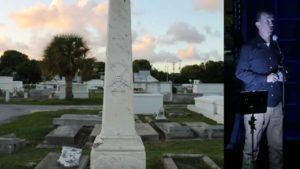 ---
Radio Interview
Keith at the Talk Radio studios of 102.3 FM preparing for his interview about preservation and the cultural significance of local cemeteries. In this interview, Keith discussed several Cemeteries affected by flood waters of the Tennessee River.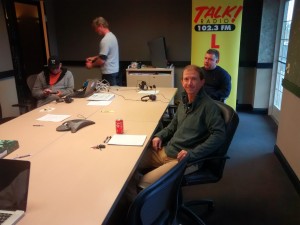 ---
Print Magazines
Keith's research on The Submerged Cemetery At Mullins Cove is featured in the regional adventure magazine Get Out Chattanooga.
This full feature layout is a great write-up of the research behind the Mullins Cove Cemetery video.
The Submerged Cemetery @ Mullins Cove
---
Television News
Keith was recently interviewed by News Channel 9 for its coverage of a Cemetery disturbed by construction crews building a local housing development.
---
Newspaper Interviews
Owain Johnston-Barnes, a reporter for The Royal Gazette, saw my video documentary on Bermuda's Cemeteries. He contacted me and did quite a nice article.
http://www.royalgazette.com/news/article/20170914/islands-past-lures-cemetery-expert