This video and write-up chronicles my recent journey from Tortola, British Virgin Islands to Bermuda and then onward to Rhode Island. I was incredibly fortunate to be invited to work on a beautiful sailing vessel being delivered over 1700 nautical miles across the north Atlantic ocean. On my journey, I visited as many cemeteries as I could while still performing my duties.
I learned to sail several years ago.
While most of my sailing has been on inland lakes, I've logged about 3,000 offshore miles in the Caribbean and North Atlantic.
On my most recent trip, I was 1 of a 4 man crew delivering a 62′ sailboat from the BVIs, northward to Portsmouth, Rhode Island, USA.
I arrived in St. Thomas, USVI early on a Monday morning. Shots of Caribbean rum were freely handed out at the Cyril E. King airport. The drinks gave everyone a feeling we were truly in the islands, mon.
On the taxi ride to Charlotte Amalie Ferry Port, I noticed row after row of crypts stacked two to three high. Since I only had 90 minutes on St. Thomas before my ferry departed, I sprinted across Veterans Drive for a quick visit the Moravian Cemetery of St. Thomas.
Distinguishing aspects of this cemetery included simple dirt burial mounds (tumuli) covering some graves. The majority of interments are within above ground concrete crypts. I am still fascinated with the personalized memorials inscripted by family members and loved-ones.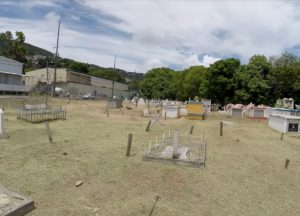 My trip on the Fast Ferry took about 40 minutes to reach Rhode Town, the capital of Tortola BVI. Once back on land, I walked miles and miles
to visit St. Georges Anglican Church Cemetery, St. Paul's Cemetery at Sea Cow Bay, and numerous unnamed cemeteries tucked into the hillsides along the southern edges of Tortola.
Sailing The Atlantic
Sailboat delivery is something I first experienced in 2015. Many boat owners like to keep their boats in warmer climates during the winter. Since ocean crossing requires the expertise of competent crew, owners hire crew members to move their boats southward in the fall and northward in the spring.
Delivery crews work at the whim of the weather. A significant challenge in sailing a boat on the open ocean is the search for a weather window providing acceptable weather for the majority of the passage. Once offshore winds were favorable, we motored out of Nanny Cay and along the Sir Francis Drake Channel. Turning the boat to starboard at Frenchman's Cay, we motored across the archipelago to spend one night at Jost Van Dyke before sailing northward to Bermuda.
For the next week, it was nothing but sky and water as far as the eye could see. But, we were kept company, somedays, by dolphins.
The Cemeteries of Bermuda
We arrived in Bermuda, unscathed from the journey. Anyone who has sailed into Bermuda knows the reassurance you feel upon hearing Bermuda radio on channel 16. The waters around Bermuda are notoriously dangerous. However, navigation markers lead the way to the Town Cut at St. Georges. With the yellow quarantine flag raised high, we cleared customs and were free to roam the island. The next stop, after customs, was the White Horse saloon for Dark n' Stormies. Many tales of sea going adventures have been told here….and some of the tales are actually true.
This was my third visit to the island. Using scooters for transportation during my visits, I have explored every major Bermudian cemetery (that I know of).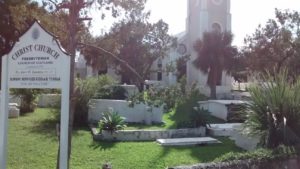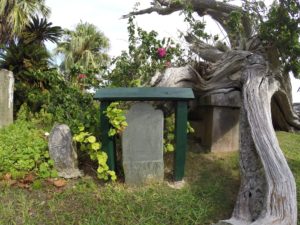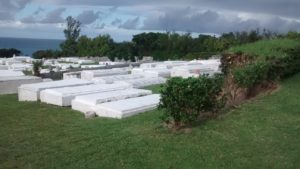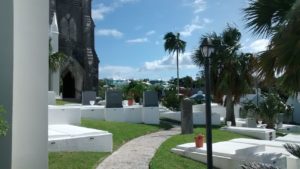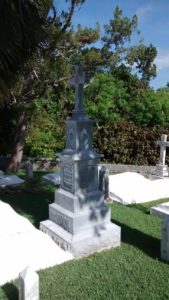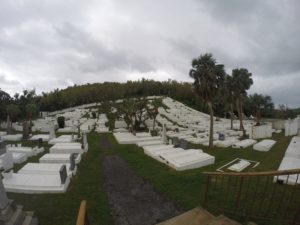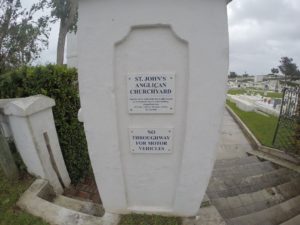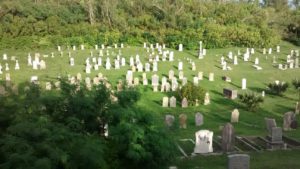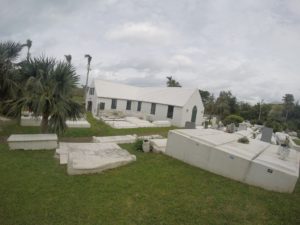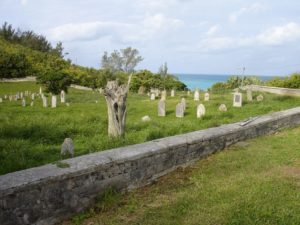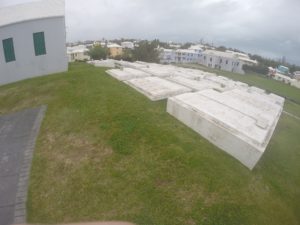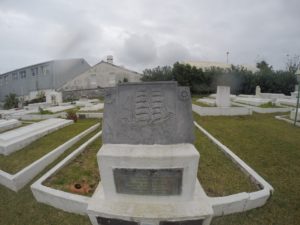 Sailing Across the Gulf Stream
After a quick supply re-provisioning trip to the local market in St. Georges, we quickly prepped the boat for its final leg of the journey.
Through the town cut leaving St. Georges and across the bowditch seamount, we readied ourselves for the ever treacherous waters of the Gulf Stream.
Sailing across the Gulf Stream can be a hairy proposition. Weather and sea state can change in the blink of an eye. Sailors have to be prepared to alter sail trim and reefing points at a moment's notice.
Arrival In Rhode Island
Days and days passed but we soon sighted Block Island and Narragansett Bay. I've been to Newport Rhode Island a few times and I always enjoy visiting the cemeteries there.

Sailing n' Cemeteries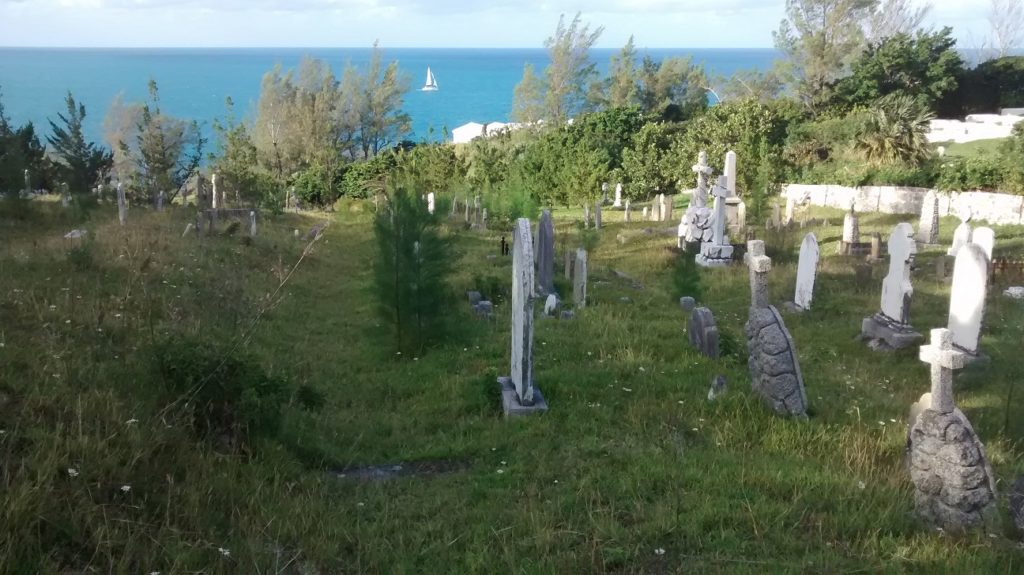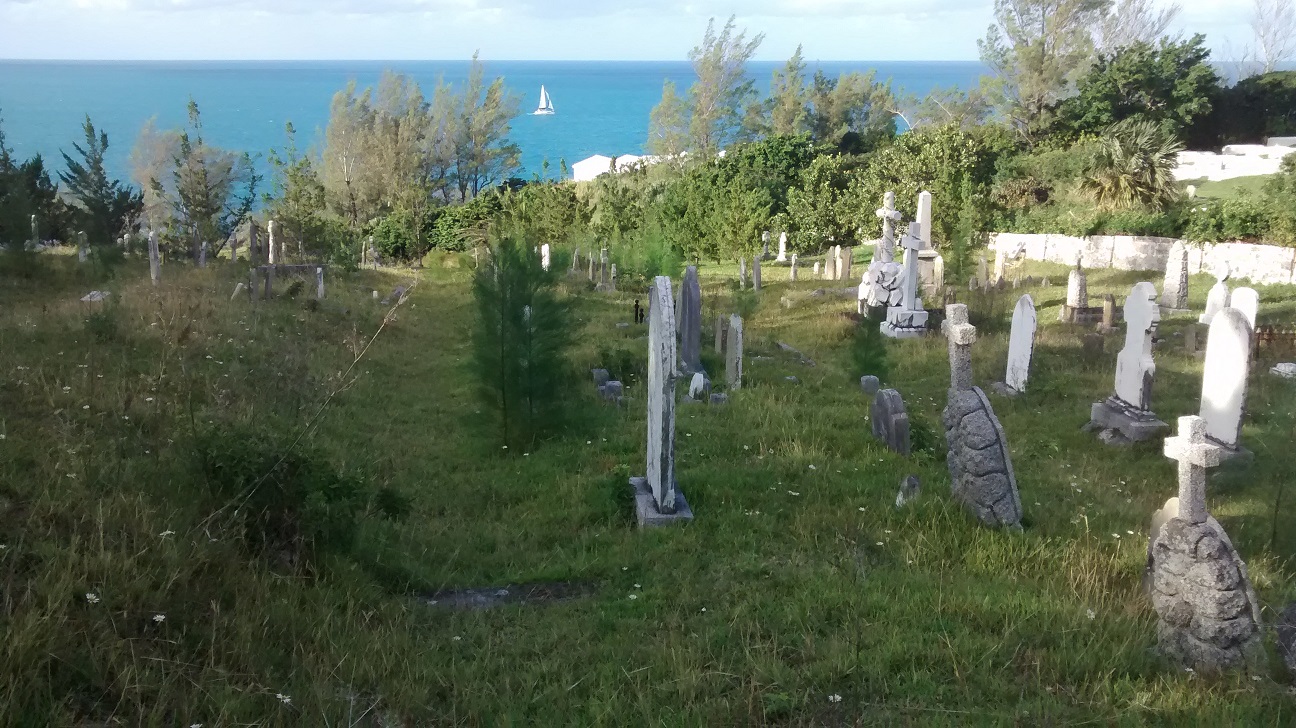 As you have probably guessed from this video. I have two obsessions, sailing and cemeteries. This final picture captures them both perfectly.
Thank you for allowing me to share my obsessions and my journey.